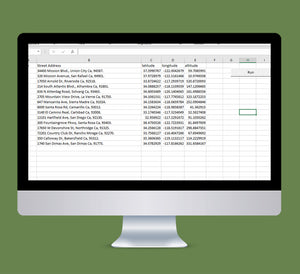 Excel Geocoder 2.0 - Generate Latitude and Longitude from a list of Addresses
Our Excel Geocoder 2.0 (Longitude and Latitude Generator) allows the user to generate Geocodes (Latitudes, Longitudes and Altitudes) for Full/partial addresses or even Zip codes
DIRECTLY INTO YOUR EXCEL SPREADSHEET!
It uses the Ease of Excel and the Power of Google Maps to bring Geocode Generation Capability to your spreadsheet!
Whether you have 100 or 100,000 addresses you need to convert into Geocodes (Longitude and Latitude) o
ur tool will do the job!
It Is the Easiest tool you will ever use. It generates the Longitude and Latitudes directly into Excel in 3 Easy Steps
Step 1 - Paste or Enter the data like you would in Excel into our tool
Step 2 - Click the Generate Button
Step 3 - There is no step 3. Just watch the tool generate Longitude, Latitude and Altitude directly in Excel
What does it do?
Q: What does the Excel Latitude and Longitude Generator do?
A: It allows the user to generate Latitude, Longitude and Altitude from a long list of addresses or even Zip Codes directly into Excel. 
How does it do it?
A: If you can copy and paste in Excel, you can use our tool. Just Paste the data in the tool, hit "Generate" and the tool will do the rest. 
Why this is the best tool to generate Longitudes and Latitudes?
Generate Longitude and Latitude and even Latitude directly into excel with the click of a button

Use directly in Excel - No third party software installation

Always up to date information, with the power of Google Maps
FAQ
Q: Will I need an API key?
A: Yes, you will need a Google Maps API key in order to use the tool. 
Q: Does the Google Maps API key cost anything? 
A: The Google Maps API key is free to get, and you can use it for up to 40,000 calculations (queries) per month. In excess of that, Google charges a $5 fee for every 1,000 calculations and you pay as you go.
Q: Will this work outside of the United States?
A: Yes, Absolutely! The Geocoder 2.0  works the same for US and non-US addresses. It even works for non-latin characters like  ありがとうございます 
Q: Will this work on a Mac as well as a Windows Machine?
A: Yes, the calculator will work on recent versions of Excel for Mac as well as Windows.
Q: Are there any limitations?
A: Yes, the Geocodes or Latitudes and Longitudes are generated using Google Maps API which limits the results to 100,000 calculations every 24 hours per IP address. If you need more than this, please contact me at the email below.